I have added the ability for customers to select a SIZE from the dropdown on my product detail page. When they select the option they want, it shows up on the cart. But now I need to have that same value they selected be passed to the next screen of the cart where Order summary is wehre the customer is entering the billing, shipping and payment info.
Currently I am only able to pass that value to the screen of the cart when it opens up, but do not know how to send the value beyond that screen. I need to be able to show the customer the selection they made the rest of the way through checkout. Only the name of item is passing along but not the size that comes from the data-item-custom1-options. How do I do that?
See images below:
How to I pass that value beyond this point ?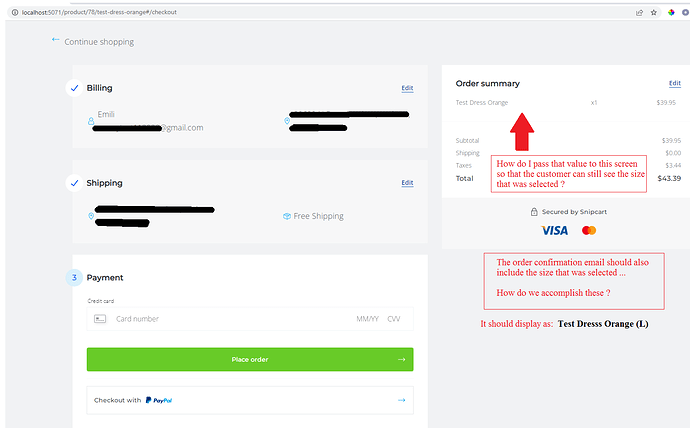 This is the code that is passing that value to the cart on the first screenshot.
<button id="addToCartButton" class="snipcart-add-item snipcart-button-primary snipcart-base-button" style="background-color:#62C124; font-size:20px; padding: 10px"
data-item-id="@Model.id"
data-item-price="@Model.Price"
data-item-image="@Model.Image"
data-item-name="@Model.Title"
data-item-custom1-options="@Model.SnipCartCustomFieldPipeValue"
data-item-custom1-name="@Model.SnipCartCustomFieldDropDownLabel">
Add To Cart
</button>

 <script>
const button = document.querySelector('#addToCartButton')
const select = document.querySelector('#CustomersDropdownSelection')
select.addEventListener('change', () => {
// Sets the default frame color when adding the item
button.setAttribute("data-item-custom1-value", select.value)
 })
 </script>